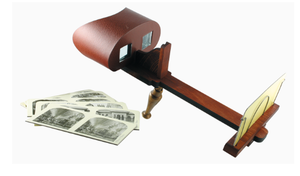 In 1838, Sir Charles Wheatstone invented the Steroscopy, an instrument that made it possible to view drawings from two different angles, with a sense of three-dimensionality.
The development of photography transformed the stereoscope from a scientific curiosity into the most popular amusement of the gentry from 1850. This model is a reproduction of the one made by Oliver Wendell Holmes in 1862.
Includes 12 stereoscopic images.
Height: 150mm
Length: 127mm